Every $ counts
Don't forget to enter in your text.
Donate here
As the novel Coronavirus pandemic crosses 2.5M+ cases across the world and several countries are enduring a lockdown, the marginalized communities across the world have been hit the hardest.
In India, millions of daily wage laborers can no longer work as the country enters the second week of the lockdown. Several non profit organizations working at a grassroots level are reporting shortage of food and sanitary products for disadvantaged communities.
Impacted groups:
1. Migrant laborers and children who have moved from rural areas to cities for work
2. Rural communities, transgenders, orphans and the homeless.
3. Children from low income families that cannot receive daily free mid day meals offered in government schools but schools are shut down
disbursed for providing dry ration to families who could not avail government relief measures
FAmilies benefitted directly
Relief efforts from our project partners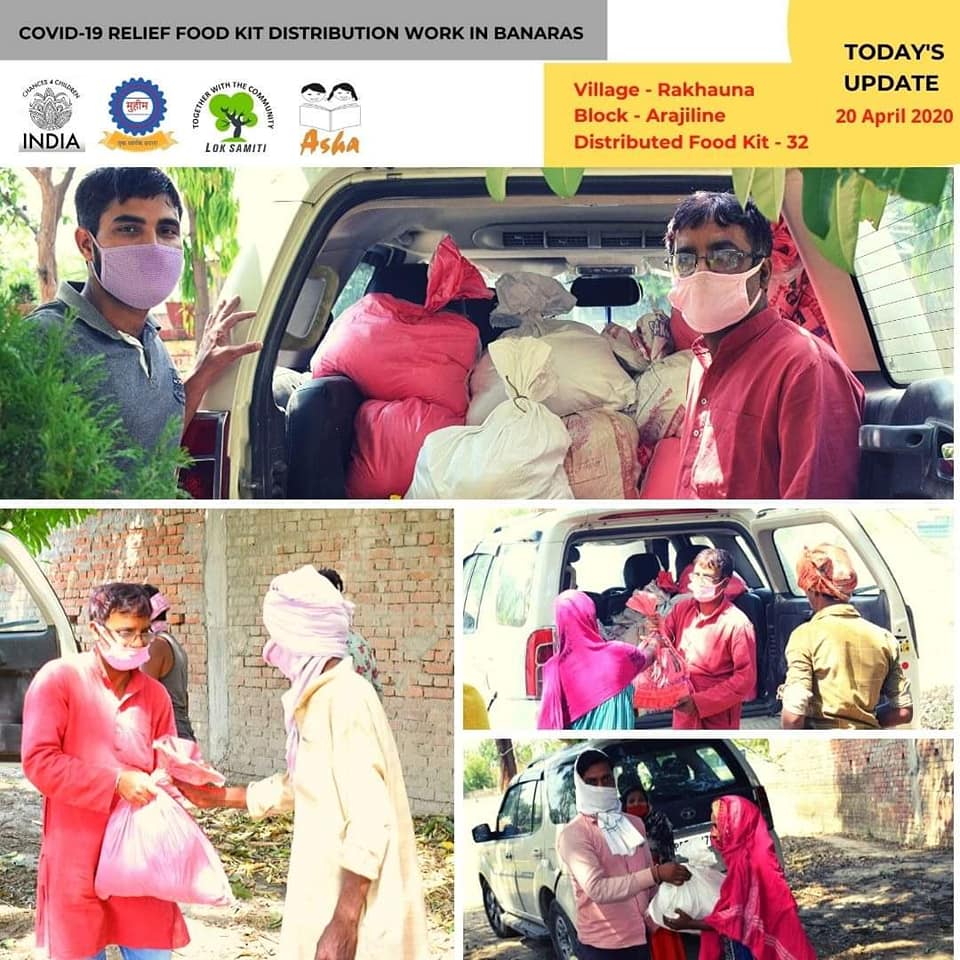 COVID RELIEF - VARANASI by Nandlal Master
Just West of the cultural heart of India near Varanasi are large populations of landless Dalits and other lower castes: saree weavers, farm hands, tea stall boys, vegetable vendors, construction labourers, rickshaw drivers, etc. They live hand to mouth and depend heavily on daily wages.
Asha Fellow and former weaver, Nandlal Masters has been working in this area since 1994 (set up the 1st school). Starting in 1999 he mobilized locals into awareness of their rights and needs and appropriate govt representation. His team has has set up women's self help groups, transformed the way people think of and spend on marriages etc. Enmeshed in this community for over 25 years, they are very aware of the fragility of families in the area.
Since lockdown began, Nandlal has mobilized ~35 volunteers to identify the worst affected people across 40 villages and provide them relief in the following important ways:
Distributing provisions for a week
Educating on Covid19 related hygiene and self-care, and Govt. helplines and resources.
Involving politicians to educate people with their credibility.
Providing mobile banking for villagers to access their Jan Dhan account or other cash.
Written to CM Yogi Adityanath to suggest potential resources for future situations in case community transmission begins.
Helping out case by case with those who live alone or those who need medical care, driving them to the still-open public hospitals and arranging for their care.
The ONLY portion of this work that they have requested funding for is the cost of the relief materials. What sets this project apart for Asha is the credible, thoughtful and optimal way that the local needs are being identified and met:
Careful identification of needy is based on deep community knowledge: people who may:
Not have a Ration Card, MNREGA job card or Jan Dhan account
Be unable to withdraw their Jan Dhan money
Have already used up the small Rs 500 granted by Govt.
Have other medical or family hardships known to the volunteers
They consult with the local Sarpanch to confirm their list. Maintaining lists of people to facilitate application of ID documents when Govt. offices re-open (a drive that was led back in 2011-2013 also).
First visit to the village is to give a token to the families identified and fix the date and time for distribution of kit.
Volunteers partnered with the police to prevent crowding and set up queues for only those with tokens.
Relief kits thoughtfully consists of items truly needed (Govt only providing rice) – Wheat, Lentils, Soy chunks, Potato, Onion, Salt, Cooking oil, 1 pack biscuit, Soap.
Understanding the true nature of issues, including inability of people to access their money, and arranging arranging a bank volunteer to travel to villages helping people access their accounts and cash.
Team is split into four team
Village survey & verification of needs
Purchasing
Packing
Distribution / Delivery
Recognizing that people are used to getting information en-masse, but meetings not being an option, they have created pamphlets and flyers and verbally tell people during distribution of relief kits regarding social distancing, face covering and hygiene.