Asha for Education supports educational resource centres which aim to improve the quality of schooling provided by different schools (government and non-government). These resource centres serve the important role of documenting and disseminating information on teaching and learning techniques and learning aids. They also serve as a centre for exploring ideas related to pedagogy. Resource centres serve as a focal point for disseminating information and training to impact the quality of schooling experience. Ideally, resource centres are required in many geographical regions so teachers can attend training sessions easily. This also helps resource centres customize education needs based on the  requirements of the local communities.
One such project, under the aegis of Asha for Education, is the Nirmaan project.
Nirmaan, (initially known as My INDIA), is a brainchild of the Birla Institute of Technology and Science, Pilani (BITS, Pilani) students, who envisioned that most problems could be solved if every citizen worked towards a common goal to foster India's development. The project started in 2005 with several small-scale initiatives like Gyanbodh (an evening school for the underprivileged), village libraries, and awareness programs for natural resources conservation. Nirmaan grew in a short time  with help from fellow BITSians, faculty, and several like-minded businessmen and social workers who crafted a strategy for the organisation.
It took a year to identify Nirmaan's focus areas–three factored education and creation of livelihood opportunities–which form the vision of the organization. Nirmaan mainly works on three verticals: education, livelihoods, and social leadership. In 12 years, Nirmaan has touched 3,00,000+ beneficiaries through vertical flagship programs and 5,00,000+ beneficiaries through horizontal impact programs with the support of 150 full-time employees, a 500+ strong volunteer network, totalling a social impact per year of over INR 500,00,000 or $603,242. This is done through seven flagship programs and social leadership initiatives such as Vidya Helpline, Youth Skill development, school adoption program, etc. These positively affect lives of children, women, youth, and farmers from diverse social backgrounds across six Indian states, partnering with 35+ corporate and philanthropic partners.
The project's goals are:
1. To provide and facilitate quality education for the underprivileged children and youth and thus empower them with character and confidence
2. To create livelihood opportunities for the financially or socially underdeveloped, yet motivated and unemployed people especially the youth
3. To promote social leadership among the youth through exposure to grassroot challenges, volunteerism, active citizenship, participative community development, and implementation of social projects
4. To solve grassroot problems through social innovations, primarily in the fields of education and livelihood sustenance
Asha for Education supports three key projects of Nirmaan: the Vidya Helpline – a career guidance helpline, the Career Counselling workshops and the Career Saathi program. The project has about 7000 beneficiaries as of now.
The Vidya helpline's goals include:
Offering career guidance to economically backward students and dropouts, especially from rural areas through
1. authentic and complete information about various aids like scholarships, loans, training  institutes, careers and courses to continue their education
2. access to free, direct and authentic information and guidance on demand
3. acting as lifetime academic counselors for all students and dropouts across the state
4. introducing opportunities for students to grow to their full potential enabling them to make effective educational and career choices to achieve eventual economic empowerment
The project aims to add a new toll-free tele-counseling line to their already established network that will serve 12,000 Calls (4,000 unique callers) per year. This can satisfy the unmet need of excess student callers. The toll-free tele-counselling assists student callers in queries related to career guidance, admissions counselling, examination results, scholarships, education loans, training institutes etc.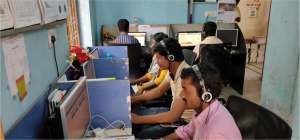 The goals of the second program – the Career Counseling Workshop  are:
1. Goal setting via face-to-face counselling
2. Stressing the importance of the dignity of labour
3. Exposure to key career opportunities
4. Personalized career counselling-charting maps to the dream careers
5. Connecting students to tele-helpline centre for a lifeline of counselling
Asha for Education aims to support goal-setting and career counseling workshops for 50 schools catering to 3000 government school students. Each career counseling workshop caters to about 60 students per school. The workshop includes personalized career baseline and endline surveys, inspirational sessions followed by exposure to hundreds of career options, scholarships, and colleges, so that each student is able to choose a career and lay a career road map by himself or herself at the end of the session. Each student would also be provided a booklet, a career chart assessment and be explained about several courses, careers, and scholarships.
The Career Saathi Program
The Career Saathi Program is a selective student support program for meritorious students who hail from the economically weaker sections of society. The program aims to assist, mentor and track these students until they are successfully employed. The support to each child ranges from administering a psychometric test, aiding in the admissions process to the course of their choice, various bridging programs for language-medium switches, assistance in applications for higher studies, entrance exams, scholarships and equipping them with employability skills. Through the Career Saathi Program, ten students are supported for a year.
The project also includes the features of mobile laboratories, learning aids, and the provision of computers.
Mobile Laboratories
These are mobile laboratories that provide children with the ability to perform practical experiments in science and other subjects. The mobile laboratory is placed in a bus or van and driven from school to school. The schools catered to, do not have any labs on their premises for children to learn from. The mobile labs also carry books, videos and other educational materials which help children learn during their interaction. Thus they also serve as mobile libraries bringing a wealth of information to the children.
Learning Aids
Asha is working with organizations such as the Tamil Nadu Science Forum to produce and disseminate educational and science communication videos that can be used in schools, by Non-Governmental Organisations (NGOs) and by activists promoting science in villages. Nirmaan is also involved in a collaborative effort in terms of developing supplementary curriculum material and supporting costs for production of material for further distribution.
Provision of computers
Asha works with organizations such as World Computer Exchange and Friends of Young Minds to collect working computers in the US from corporations and individuals, pack and ship them to India where they are put to educational use by Nirmaan mostly in government schools which do not have these facilities.
Nirmaan has documented thousands of success stories, one of which is that of Appana Hema Sri of East Godavari district's Makanapalem village in Andhra Pradesh.
"My father is an agricultural labourer and my mother is a housewife,' she says. 'Nirmaan has provided me with financial assistance for my studies. I got a seat in computer science education branch of R.V.R J.C. College of engineering, in Guntur in Andhra Pradesh, considered one of the best engineering colleges in the state. Now I am pursuing my Bachelor's and I'm in my second year. I have received a total financial support of INR 76,144 or USD 925.58, for my coaching fee, college fee, and accommodation. I secured 9.04 G.P.A. in my Bachelor's along with my academic curriculum, I have done a few online certification courses related to computer science. I could achieve all this with the help of Nirmaan's CSP. My short term goal is to get placed in a good software company with the best package. My life aim is to become an IAS officer to serve the poor and needy. Thank you Nirmaan Vidya Helpline and CSP team for your continuous support to reach my goal."
Another story is that of Sai Teja's, whose father is a contract electrician and his mother is an agricultural labourer. The family is reeling under unpaid bank loans taken out to buy their family farm.
"My parents work very hard for the welfare of their children and their future. But my father has a problem with impaired vision and his mother is also suffering from hypocalcaemia (calcium deficiency). So my dream is to settle quickly and assist my parents," says Sai Teja.
Sai Teja's aspiration is to be an engineer. In his academic career, he stood out as the school topper with G.P.A. of 9.8 and he bagged other prizes like the first prize in essay writing and in sports. With the guidance and supervision of Career Saathi Program, Sai Teja got admitted to the Integrated Bachelor's and MBA program at the Atal Bihari Vajpayee Indian institute of Technology and Management.
Please consider donating to Nirmaan.