Sandnya Sanwardhan Sanstha or SSS, is a research institute dedicated to the development and rehabilitation of differently abled children. The uniqueness of this institute is that it is committed to helping special children and their families, providing individualized attention to the child, depending on the specific circumstances involved.
SSS was started in 1993 in Nagpur, Maharashtra and has been dedicated to rendering educational services to 118 children in 2022. The institute now has its own school building at its campus — "Sandnya Srushti" — in the neighboring satellite township of Butibori, 25 kilometres from Nagpur. The institute sees to it that three school buses, funded by Asha for Education, ply back and forth between the two towns.  
SSS provides education to children who fall under five different levels of mental disability, ranging from borderline to profound. Profoundly disabled children need one-on-one attention to undertake their daily tasks for them (like brushing their teeth or eating). Over thirteen children at SSS fall in this category.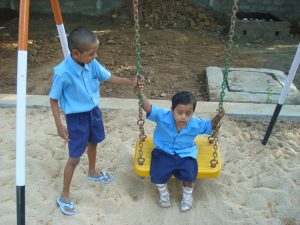 The institute provides a range of services to the children, depending on their needs. These range from special education, speech therapy, physiotherapy, music therapy, parents and sibling training, learning through cultural programs, sports and yoga, home-based training, awareness, vocational training, rehabilitation and a parent relief center.
The institute has a staff of forty-eight (teaching and non-teaching staff). The staff to student ratio is about 1:2 but the teacher to student ratio is to about 1:4. All teachers have a diploma in special education. Large numbers of teaching and non-teaching staff are necessary at SSS, because a lot of students need one-on-one attention. Also, many children have physical disabilities which makes it necessary for the institute to have more non-teaching staff (or helpers) who take care of the little needs of the child.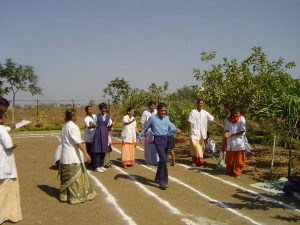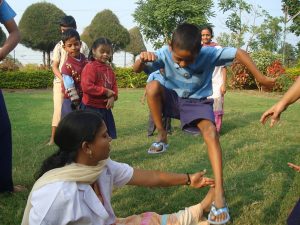 For these reasons, SSS has a high recurring expenditure of staff salaries and addressing that is a matter of great concern for the institute. Staff retention at such institutes is a challenge because similar institutes run by the government pay much higher salaries (based on the sixth pay commission structure) than what the institute is able to afford its employees. As a result, SSS requests Asha for Education for funds to be allocated for staff retention. Currently, teacher salaries are in the range of INR 10,000 to INR 15,000 or USD 121 to USD 181.
This project is a likely candidate for Asha for Education's "Support-A-Child" program in the future.
One of the success stories stemming from SSS is that of Saurabh Shekhar Barde, who was admitted to the institute's pre-vocational class with a mild case of special needs in 2011. This was the Kalpaturu Special School of the of the Sandnya Sanwardhan Sanstha. After training for a year in the various available trades in the pre-vocational class, he was selected for the 'handloom' class and was promoted to the vocational class. He was enrolled in it for a year and after observing his performance, he was recommended for employment in making "yoga mats" and "durries". He was working very satisfactorily till March 2020 when the school closed down on account of the pandemic for two years. At present, his parents say that he is working elsewhere and is standing firmly on his two feet and earning his livelihood.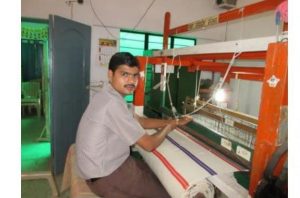 Please consider donating to the Sandnya Sanwardhan Sanstha (SSS).