Only 10% out of 200,000 challenged children in Kerala get some form of institutional care and a vast majority of them are left to fend for themselves. The deplorable condition of these children, particularly that of the female challenged child, and the helpless situation of the parents acted as an inspiration and motivation for Mr Venugopalan to launch Ashraya in June 2000. Ashraya in Sanskrit means "Shelter".
Ashraya is a residential school for the rehabilitation of mentally and physically challenged girls who have been stricken with conditions such as polio, cerebral palsy and mental retardation. Their vision to make these girls self-dependent as they grow up so that they would be capable enough to work as teachers in rehabilitation centers for the future generation of challenged children in their villages. Ashraya daughters hail from broken, addicted, or single parent families where the mother is the only earning member. By institutionalizing the child at Ashraya, the mother gets the freedom and opportunity to go out and earn a living for the rest of the family.
Ashraya currently has 25 children, out of which 15 are residential and 10 are day scholars. They employ a mix of formal and creative-informal teaching/training methods designed for their overall development with special emphasis on behavior modification and imparting training to be self-reliant and independent. As part of the rehabilitation program, children are taught academic, recreational, and vocational skills. Functional reading, writing, arithmetic, time concepts, and money concepts are some of the academic topics taught to children. Tailoring, cooking, and computer training are some of the vocational training programs. Anitha is one of the first students of Ashraya who went on to complete her Bachelors and Diploma in Computer Application. She is now a teacher at Ashraya and also teaches crafts to students. In addition, Ashraya provides the mentally challenged children, a unique approach that utilizes sound vibrations arising out of group chanting of ancient Vedic hymns and regular recitation of Indian classical music. In addition to rehabilitation, Ashraya runs several other programs including early intervention for children under 8 years, Training programs for nursing and other service programs to work with differently abled children as well as a health insurance program.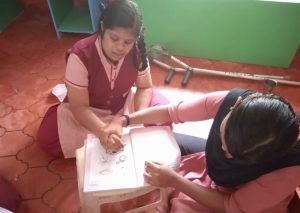 There are four regular teachers and three full time housemothers at Ashraya. Besides the teachers, Ashraya has employed a music teacher, a physiotherapist, and a physical exercise/yoga teacher. They are hired part-time and teach only their sessions. COVID had a big negative impact on these children as they are difficult to train remotely. The parents are also busy going to work and do not have the kind of time required to work with their children on their lessons. Ms. Dolly a teacher had this to say, "Last two years had been tough for all of us, especially the parents. We were able to continue the training by meeting the children through video conferencing every day. However, it took some time for the parents to be able to train their children. We advised the parents to involve the children in household chores." With the COVID situation easing, they went back to in-person classes on June 1, 2022.
Ashraya runs for 10 months a year The expenses per month per child is $80 (Rs 6400) which comes out to be $800 (Rs 64,000) per academic year. This amount supports a child's food, clothing, education, medical care, recreation, and teacher salaries. Of the current students, 60% pay some fees to the center while the other 40% study free of cost. Asha for Education's funding support over the last few years including this WAH campaign is primarily towards the staff salaries, which is about $16,300 (Rs 13,02,000) per year.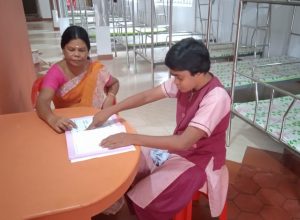 Please consider donating here to this project
Asha for Education Donations (ashanet.org)