Research approximates that between 200,000 to 400,000 children in India live in orphanages . In a country where orphaned or disabled children are often subjected to the drug trade, prostitution or petty crimes, the Asha-funded Childlife Preserve Shishur Sevay in Kolkata, West Bengal, is a safe and inclusive, de-institutionalized, family-style group home, that houses 14 girl children, as of 2022.
These girls, some with severe disabilities, would otherwise be housed in government institutions. Shishur Sevay is a model of inclusion, refuting the stereotype that "these children can never be like our children."
The institution, including its seven teachers and three volunteers, including two members of the board, provide safety, health care, education, and nurturing to orphan girls, who have lost contact with family and community, and have been declared abandoned by the government. Quite often, these children have histories of violence against them.
Shishur Sevay aims to enable orphaned or handicapped children to reach their full potential in terms of quality of life, literacy, vocational training, household work, communication and mobility and to empower them and help them feel nurtured.
Founded in 2008 by Dr Michelle Harrison, Shishur Sevay takes responsibility for raising and educating the girls and providing medical care and hospitalisation and rehabilitation in the case of the children with disabilities.
The institution maintains 24/7 vigilance throughout the year through a security guard and has done so since its inception. In the years after it was founded, Shishur Sevay experienced demands by local "club members" for "access to the girls", and Dr. Harrison personally received death threats for several years because she refused to hire political appointees at Shishur Sevay. There was belief in the community that because the girls were orphans, community members had "as much right to them as Shishur Sevay did." This attitude that orphans are "community property" also makes them easy targets on the road.
Besides providing them with security, Shishur Sevay offers the girls martial arts classes to defend themselves against attackers. The Karate and Kalahi classes have brought about a sea- change in the self-confidence of the girls. They train at Shivaji Ganguly's Academy, Body and Mind, and the bi-annual camps the academy organises are crucial for taking them forward in terms of fitness and self-image.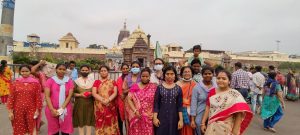 Kusum (alias) – one such beneficiary of Shishur Sevay – received her black belt in July 2022 and started a salaried job as a Karate instructor at a private school from August. She is also a gifted artist who has been featured at an exhibition at the Indian Council for Cultural Research (ICCR) in Kolkata. Despite her learning disability and against many odds she has disproved numerous naysayers and has embarked on her journey to independence. "Don't ask me about my life prior to Shishur Sevay,' she says, tearing up.
Her friend, Khushi (alias) is appearing for her class 12 exams through National Institute of Open Schooling (NIOS) this year. She is also in the advanced group at Mamata Shankar's Dance Academy. Asked to get a passport so that she can travel with their dance troupe, she now has one and she sees her future in dance. She has performed locally with the troupe. After she finishes school, she plans to get her college degree in dance. She has already started preparing for that, getting special instructions from the dance teacher at Shishur Sevay, who is trained in Bharatnatyam and performs worldwide, in addition to what she's learning at Mamata Shankar's academy. She might not be there yet, but she's firmly on her way.
Fourteen years after its foundation, Shishur Sevay has spread its wings. One of the biggest success stories of the institution has been the girls teaching and assisting at the newly opened Children's Smart Centre, in their community — a free inclusive play school with activity-based learning for underprivileged children to prepare them for schooling. The girls, including the ones with disabilities, teach at the centre, under the able guidance of its teachers.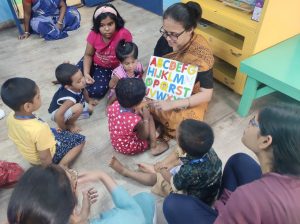 Shishur Sevay also provides classes on sewing and tailoring, music and yoga, and even manages to enable the beneficiaries to travel, to broaden the girls' horizons.
The institution took the girls on local field trips and recently on an out-of-state trip to Odisha for a week, which was a huge learning experience for the girls, not just academically, but to come face to face with the rich culture and heritage of India. They were able to immerse themselves in a part of Indian history. While they don't have a family lineage, Shishur Sevay's outlook is that they do have the lineage of the rich culture of their motherland. When they witness and feel the ancient temples and monuments, they know they are Indian, and India is theirs.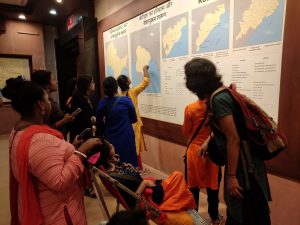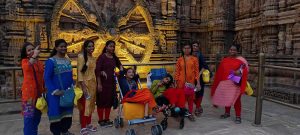 Please consider donating here.