For the nomadic children of migrant workers, who are excluded from the mainstream education system, non-formal education centres (NFE centres) are a life-giving boon. 
Asha for Education has been supporting Kumarappa Gram Swaraj Sansthan or KIGS since 2015. KIGS provides schooling for over 900 children of migrant brick workers in the Chaksu region of Jaipur in Rajasthan. This initiative is for those who cannot attend formal schools or are unable to attend an entire day of school because they're on the move or helping with vocations and don't attend the same school throughout the year.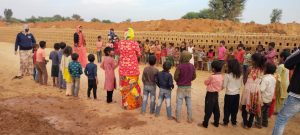 Often, these NFE centres serve as stepping stones for more formal education. These centres allow non-formal enrollment – – and children can join irrespective of age. 
The project with KIGS is focused on empowering underprivileged community members through realistic, innovative and sustainable interventions on a grassroots level. This is in order to develop tools to enable brick workers to meet their own needs and to support the full participation of children and youth as equal partners in their education. The ultimate goal is to promote self-governance among the migrant community of workers, teachers and their children. 
There are close to 900 children of the kiln workers ranging from 4 to 10 years along with about 1000 adults. The literacy rate among these populations is about 10 percent.
NFEs can follow varying curricula and there are no formal classes at KIGS. Instead, it functions as a "bridge school" that offers several years of curriculum, based on proficiency, in a condensed manner to help the students join a formal education system. KIGS tries to familiarise children  with a subset of the curriculum such as languages and basic math, hoping to encourage the children to learn further. 
KIGS offers four categories of learning in the Hindi language – – word, letter, paragraph and story based instruction, based on proficiency. Maths learning involves counting, divided into the following categories – 0-9, 10-99, 100-999, addition, subtraction, multiplication and division and simple mathematical word problems.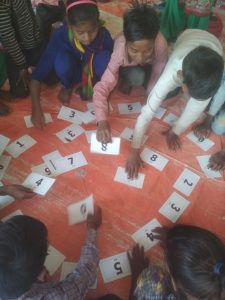 With a total student intake of 256 and 10 teachers and a student to teacher ratio of 25:1,in 2022, KIGS is well placed to catalyse a change among children whose parents' average monthly income is INR 25,000 or $ 313.
KIGS employs teachers from the local community around the brick kilns and their qualifications range from being passouts from the senior higher secondary level, to B.Ed holders or graduates and post-graduates. 
Sukhdev, a young KIGS student, belongs to Rampur village in Uttar Pradesh. He migrated to Rama Brick Kiln in Jaipur, with his siblings and father. His mother died six years back. The family doesn't have much land at their native place and it was hard to make ends meet, so his father switched from working in the rice fields to working at the brick kiln, in search of a better livelihood. 
'Rampur has a school, but the teacher there beat us more than he taught us,' says Sukhdev. 
Sukhdev, who couldn't read when Asha conducted a baseline survey, is now literate and able to read books for his age. In Math, he could not recognize numbers from 1-10 but after three months of practice, he was able to recognize numbers from up to 999. 
'I'm able to perform simple calculations, like addition and subtraction,' he says. 
At home, his father helps him to study and  do his homework.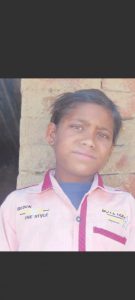 All three kids of Mehmood, another migrant worker, are studying at KIGS, and he is happy with the initiative. 
"I don't want my children to start working at an early age. I am illiterate and do not want them to be the same. Education is important to move forward in life," he said.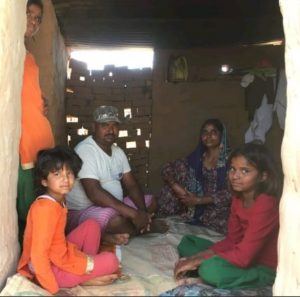 KIGS gives priority to women, children and socio-economically stratified citizens – including scheduled castes, scheduled tribes, and small, marginal farmers. Through holistic development practices, KIGS directly contributes to the creation of a more secure, equitable and prosperous India.
Please consider donating here.