Vaani, a blind 18-year-old girl from Karnataka's underdeveloped Chitra Durga District was born to a house of daily-wage labourers. Through extended family, Vaani's father, Jayanna, learned of the Asha-funded Divya Jyothi Charitable Trust, located in Mysore, and managed to enrol her in it. The Trust has specially designed in-house educational initiatives to train differently abled children in using computers/ mobiles for various vocations, while also focusing on personal development skills, and recreational/cultural activities with the aim of building leadership. The Trust has brought Vaani a long way.
'I'm grateful to Divya Jyothi for providing a wonderful platform to polish my skills and help me to pursue my career further,' says an animated Vaani.
The organisation has identified in her a talent for cultural performances and is helping to shape up her hidden skills in dance and theatre art.  
Dwelling in dormitories that are friendly to differently abled people, under the aegis of Asha for Education, a total of 40 visually impaired girls are benefited. The platform fosters social and gender equality among these young women, from in and around Karnataka.
Vaani's is not the only success story from Divya Jyothi.The eldest of four daughters of her parents, 19-year-old Mallamma hails from the weakest of economic sections, in the outskirts of Yadgiri, Karnataka. Now at the Divya Jyothi Trust, she came there from her high school which she had quit due to financial reasons and also, because they could not support her goal to read and write independently. 
Mallamma's parents are content with the organisation, which meets all of their daughter's needs in terms of food, facilities and fully tactile and voice controlled assistive-aid based computers.
 'Now, I'm able to read and write independently with the support of a computer,' says Mallamma.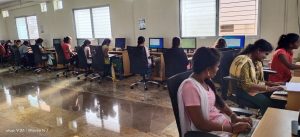 An initiative for teenagers and young adults,(which was all-women this year), in the age range 16-25, the Divya Jyothi education program has students whose monthly average household income is up to Indian Rupee (INR) 30,000 or US $375. Hundred percent of the budget supported by Asha For Education is used for this education program. There are a total of two certified teachers for computer training in the school. Both teachers have finished their graduation and have been certified in advanced computer courses by the National Institute of Electronics and Information Technology (NIELIT) as well as the National Institute for the Empowerment of Persons with Visual Disabilities (NIEPVD). They have teaching experiences ranging from 1 -10 years. Their average monthly salary amounts to INR 12,000 (US $150) . A typical day for them includes five hours of theory classes, one hour of practical classes, and one hour of music and excursions after classes. The classes are spread over four classrooms and one playground, with a student to staff ratio of 20:1. Spoken English classes and music classes are also conducted in the residential premises. The average cost per student per year in INR is around 18,000 (US $225).
Up to 48% of the funds Asha allocates to Divya Jyothi are used for residential facilities. The Divya Jyothi Trust provides pick-up and drop services to the training premises, which has dormitories with a total of 10 toilets with proper sanitation. Students are offered a well-thought out meal plan Care is taken to introduce iodized salts, mineral water, glucose, eggs, and fruits, such as apples and bananas, for the students. The average cost of each meal per day is INR 50 (US $0.67).
The two teachers and a few student volunteers in the group also spend five days a year campaigning for computer literacy as part of Literacy India's activities, since computers have become a part of our day-to-day life. The aim is to help these youth to develop interest in their studies using digital educational content, enhance their self-confidence, and help them to acquire life-skills, which will help them to find vocations. They are also working on Android phone accessibility training, specifically for blind students, to allow for even greater accessibility. Divya Jyothi is committed to educating the community about the visually impaired and their rights. They make an effort to ensure the visually impaired have access to facilities, services and support within the community, and help the community understand how to interact and communicate with people who are visually impaired.