By: Tanushree Rawat, Asha Madison Volunteer
Nirmaan as an organization is filling a huge gap in career guidance for students in the Indian education system. Through multiple projects like Vidya Helpline, Career Sathi, and Career Counselling workshops, Nirmaan is providing career counseling resources to students from rural communities in India. They are currently present in the states of Telangana, Andhra Pradesh, Karnataka, and Assam. A majority of students that they serve come from families of farmers in rural areas, or daily wage laborers. More than 50% of students have a yearly family income of less than Rs. 50,000/- (roughly 780 USD).
When I visited Nirmaan for the first time, the team from Bengaluru was visiting Hyderabad center for training purposes, as this is their first year running Vidya helpline in Karnataka. They thanked Nirmaan Hyderabad's team for allowing them to shadow their work, and for showing them the nuances of everyday tele-counseling.
Nirmaan office is in an independent house, with three rooms, kitchen, and bathroom. The first room is the entrance, where Nirmaan staff members analyze their own data or work on other reports etc. This room has 3-4 computers that staff members work on. Vidya Helpline runs out of the largest room, with at least 10 computer systems where tele-counselors answer calls from students all day. The last room is the storage room, that houses the career workshop books and other print material. It is worth noting that they are a very data-driven organization. Their analysis of data is presented in their office for all to see.
Nirmaan's dedication towards students shines through all that they do. Not only do they provide career counseling to students who need it the most, they also comb through government websites and newspapers each morning, to keep a database updated daily with scholarships and opportunities available for students.
As the number of calls received far exceeds the number of calls that they can answer at full capacity, they are looking to add more lines to support calls. Till that happens, local center heads monitor the number of calls that are answered at each center for accurate resource allocation of people and distribution of calls. Student details are recorded in their database so that students can get continued support. Sometimes adults also call to ask for resources on behalf of their students, or to get guidance themselves as adult learners. All these services are free of cost.
Nirmaan also conducts career workshops in government schools, where they provide career counseling books to students. See this video and this video.
I met four students who are part of Career Sathi program and had come to meet me to talk about their program. Three out of these four students are first cohort students, whereas the other student is a third cohort student. He is still in school. Nonetheless, all students expressed great gratitude for getting opportunities to pursue higher education/ degrees in computer application, medical technician, and a diploma in engineering courses because of counseling provided through Nirmaan. Their mentors are working professionals in fields aligned with students' interests. One of the mentors is in the US pursuing higher education. Through Nirmaan, these students have also become fluent in computer literacy. They can fill out college and admission forms online, use email, and Microsoft Office tools.
Nirmaan staff try to take care of students as much as they can. This can be seen in the following example, where Nirmaan wants to open Spoorti Bhawans; residences for students in Career Sathi program to live in. They explained that students oftentimes come from localities outside Hyderabad, or from roughhousing situations. These residences will provide a community to students from Career Sathi program.
Overall, Nirmaan is a student-centric organization trying to fill a gap that is often overlooked by urban educators and corporate CSRs. They are meeting the needs of rural students and empowering adults in communities where knowledge about career opportunities is very limited. Even when students might have access to resources, these resources are usually in English, and students have limited literacy skills in English. Nirmaan makes knowledge accessible by presenting it in local languages.
Trainers from Hyderabad team on left and visiting team from Bengaluru on right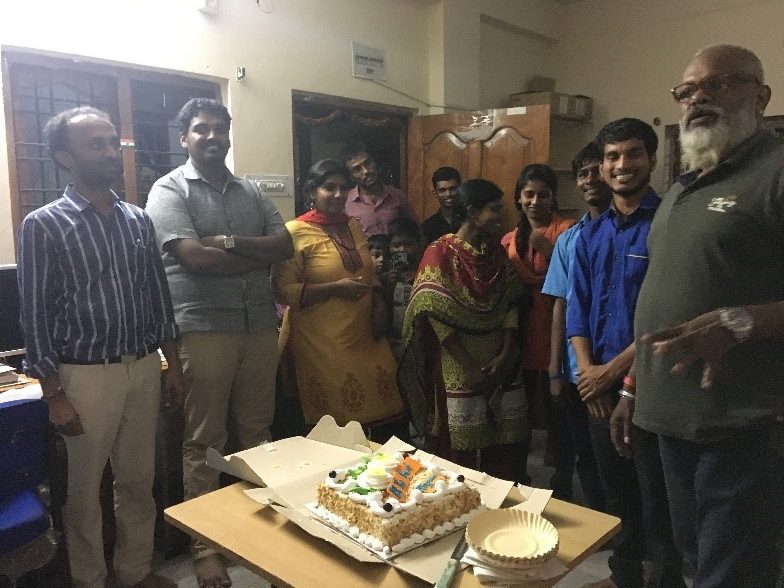 Data analysis reports displayed in their office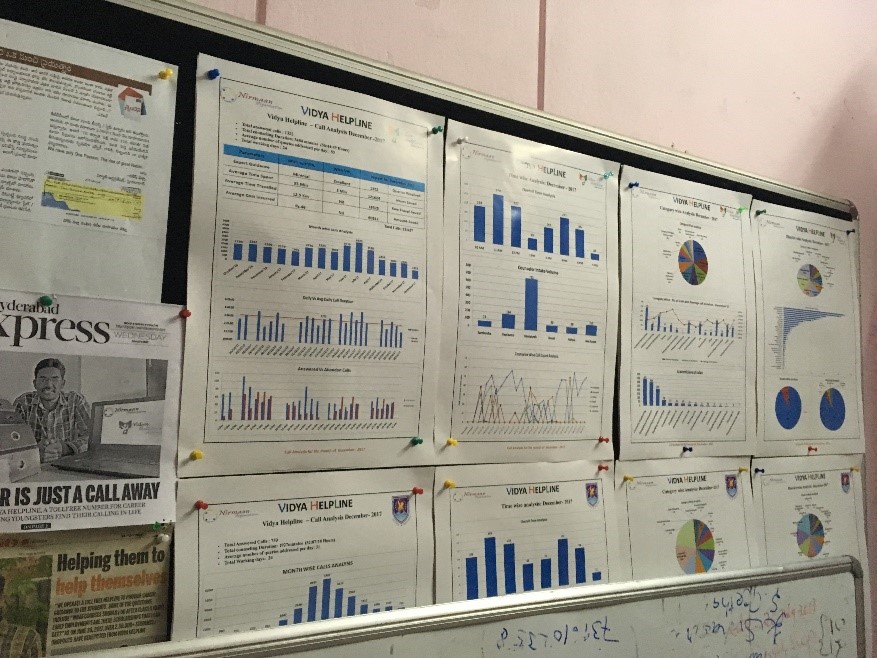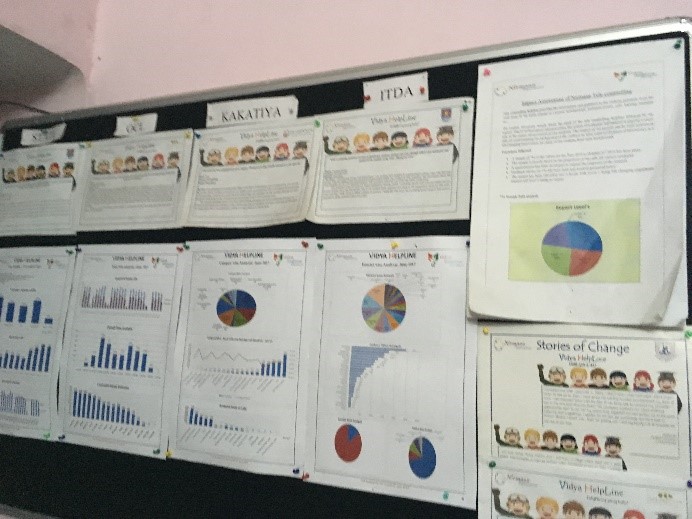 VHL feedback on display in their office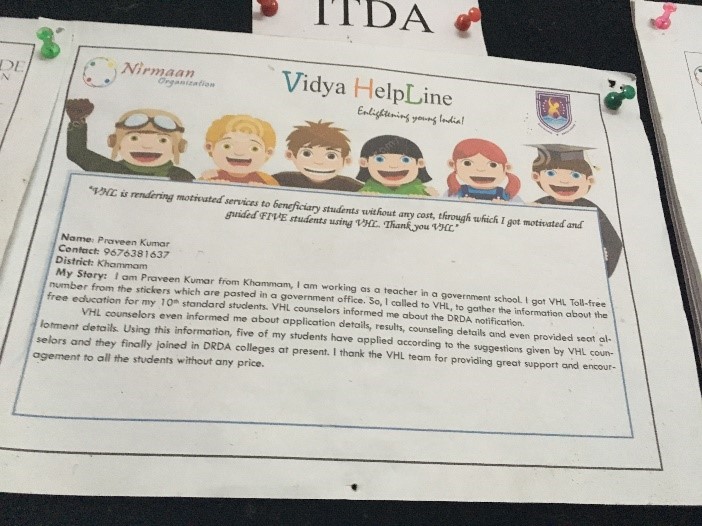 Tele-counselors at work answering calls through Vidya Helpline