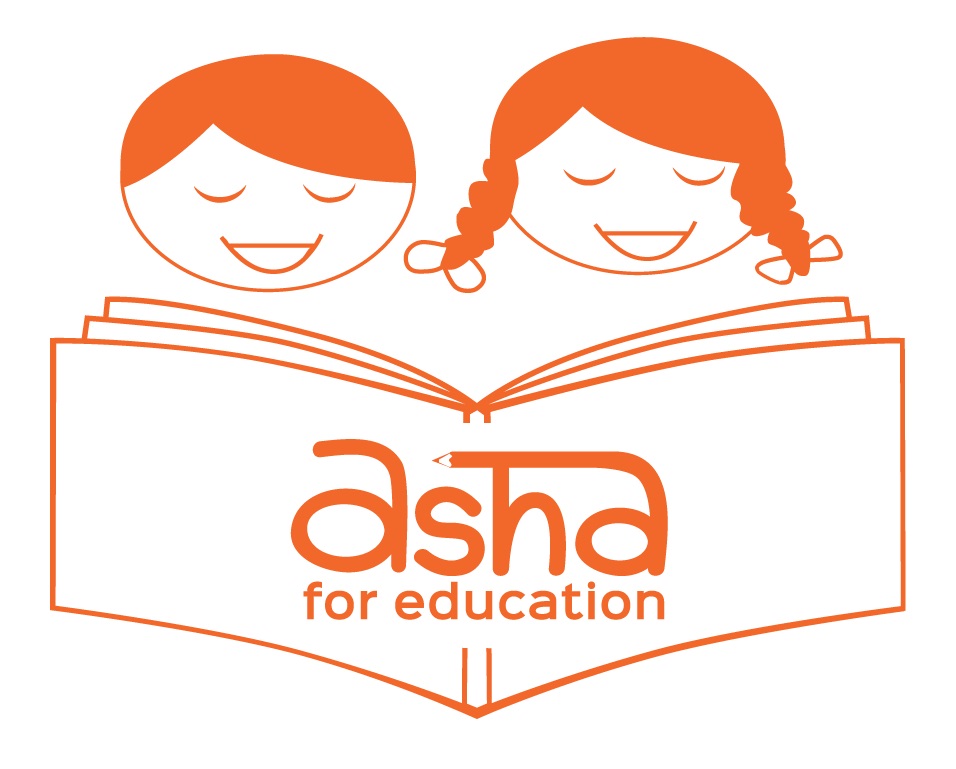 Letter from Our President
As a part of Asha for Education ("Asha"), we are privileged to work on behalf of some of the most marginalized children in India: ones who are ostracized because they happen to be a child of a prisoner, or a murder victim, or a sex worker; children who are sick because they don't have anyone to make them aware of health and hygiene issues. And yet, the words we hear over and over are not words of despair. We hear about plans and dreams – to study, to play, to become doctors, teachers, or humanitarians. They are words of hope, even in the most hopeless of situations.
In 2017, Asha nourished this hope all over India. Thanks to the remarkable dedication of our 1,500 volunteers across 52 chapters and three continents, we disbursed over $4.2 million to 196 projects and reached over 240,000 children in India.
I invite you to read the stories of our projects and the students, along with those of our volunteers, as showcased in this 2017 Annual Report. We are deeply proud of all we have achieved together.
Yet, we remain mindful that we need to continue to work tirelessly to catalyze socio-economic change in India through the education of children if we intend to keep their hope alive. Our efforts are only possible because of the support of committed donors, project partners and volunteers, like you. To all of you, I extend my deepest thanks.
Best regards,
Uttaraa Diwan, President
president@ashanet.org
To catalyze socio-economic change in India through the education of underprivileged children.
Asha for Education is a secular organization dedicated to change in India by focusing on basic education in the belief that education is a critical requisite for socio-economic change. In keeping with this focus, our volunteers are involved with and support projects that are secular and have an education-related component to them. The objectives of this group are:
• To provide education to underprivileged children in India.
• To encourage the formation of various local groups across the world to reach out to larger sections of the population.
• To support and cooperate with persons and groups already engaged in similar activities.
• To raise the required human and other resources to achieve the group objectives.
• To provide opportunities to individuals living outside India who wish to participate in Asha activities in India.
• To address, whenever possible, other issues affecting human life such as health care, environment, socio-economic aspects and women's issues.
Asha-26, the biennial Asha-wide conference celebrating 26 years of Asha was held on July 29th – 30th, 2017, and hosted by Asha Seattle in the Microsoft Campus at Redmond, WA.
The conference had representation from 20+ chapters, 92 attendees from around the country, 14 speakers – including 2 Co-founders, 1 Asha fellow, 5 project partners, representatives from 4 other non-profits and 2 American educators.
Read a full recap of the conference here.
We work with projects across India, dealing with a spectrum of educational issues from pre-primary schooling in remote villages to professional education in city slums.
A HISTORIC $4.3 MILLION DISBURSED TO INDIA IN 2017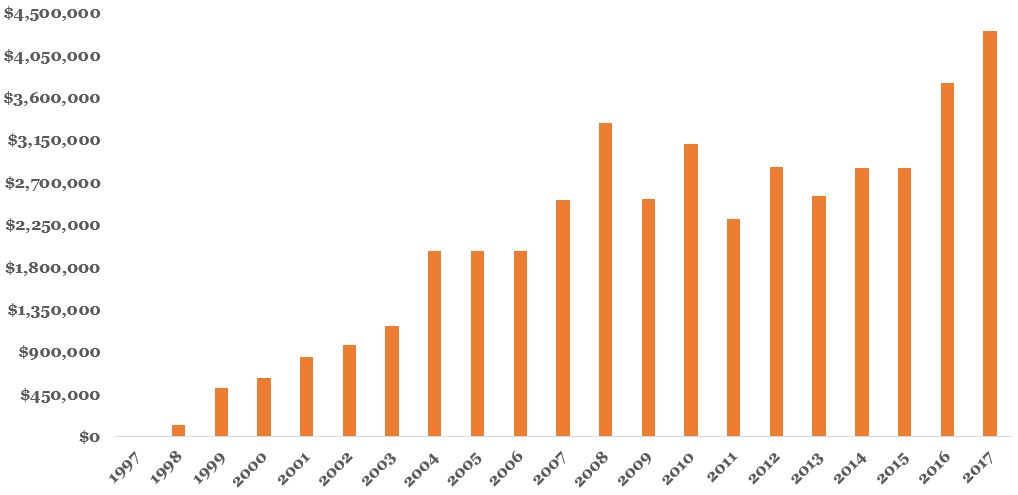 PROJECT SUCCESSES: SIKSHANA FOUNDATION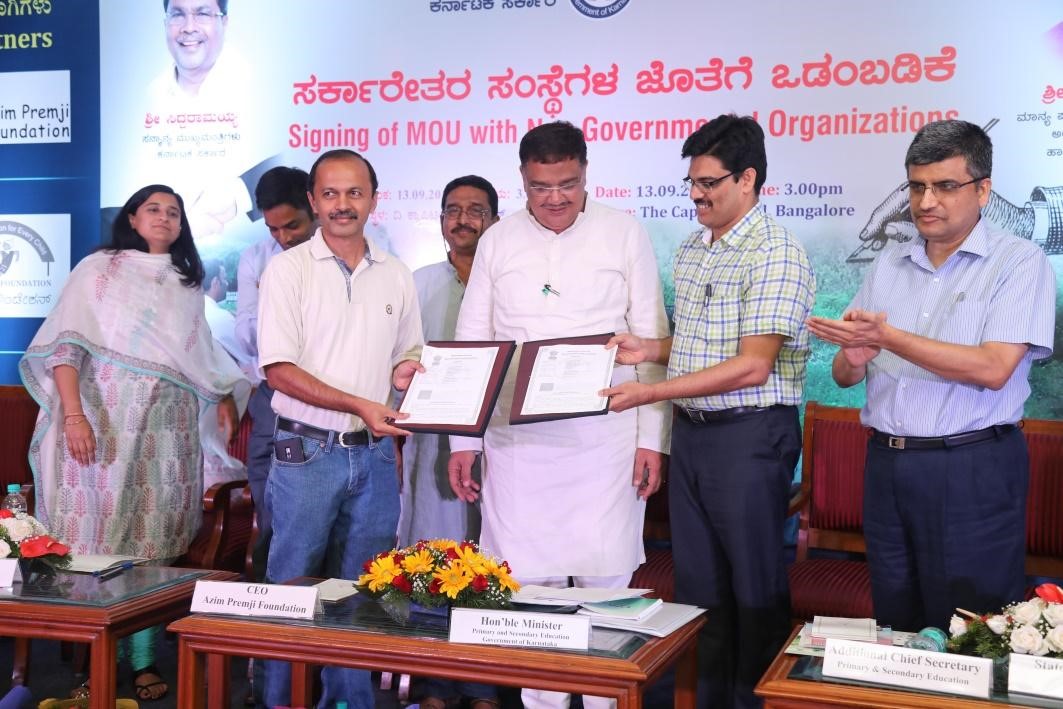 On September 13, 2017, Asha Seattle-supported project, Sikshana Foundation , signed a Memorandum of Understanding (MoU) with the Department of Education of the Government of Karnataka to implement its Prerana Model in all the Govt. primary schools across the state of Karnataka, India.
With this partnership, Sikshana Foundation along with Government of Karnataka will be making a difference in the lives of ~23 Lakh students across ~44,000 schools across Karnataka.
Asha for Education congratulates the entire team of Sikshana Foundation on this outstanding achievement.
Prerana is a Hindi/Sanskrit word for inspiration. Sikshana's Prerana (inspiration) model creates an environment where students receive incentives for engaging in learning, transcending the fear of failure, and engaging in structured learning and deliberate practice.
In 2015-16, 71% of students in class 7 in Sikshana supported schools achieved foundational math skills, as against 29% average for similar rural schools in Karnataka. That's a 40+ point increase in performance. Similarly, there has been an ~30 point increase in students able to read basic Kannada.
Nirmaan as an organization is filling a huge gap in career guidance for students in the Indian education system. Through multiple projects like Vidya Helpline, Career Sathi, and Career Counselling workshops, Nirmaan is providing career counseling resources to students from rural communities in India. They are currently present in the states of Telangana, Andhra Pradesh, Karnataka, and Assam. A majority of students that they serve come from families of farmers in rural areas, or daily wage laborers. More than 50% of students have a yearly family income of less than Rs. 50,000/- (roughly 780 USD).
When I visited Nirmaan for the first time, the team from Bengaluru was visiting Hyderabad center for training purposes, as this is their first year running Vidya helpline in Karnataka. They thanked Nirmaan Hyderabad's team for allowing them to shadow their work, and for showing them the nuances of tele-counseling.
Read the rest here.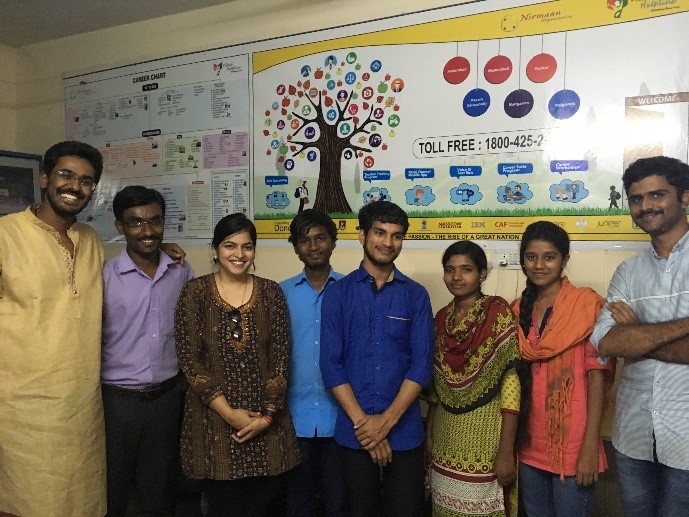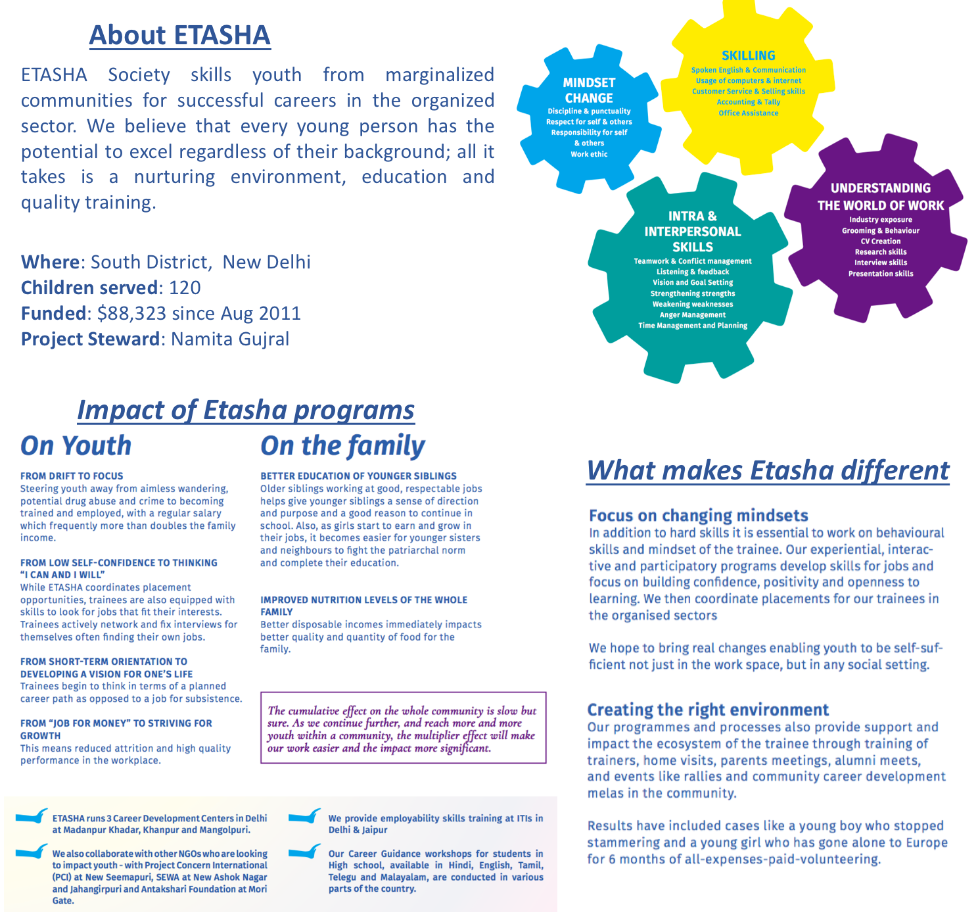 ASHA STUDENT HIGHLIGHT: ARATI
Arati Ekka is one of the kids supported by Society for Health & Educational Development (SHED), a residential cum integrated school in Sonapur, Assam for children with special needs, orphans and other children at risk, from the economically poor strata of society.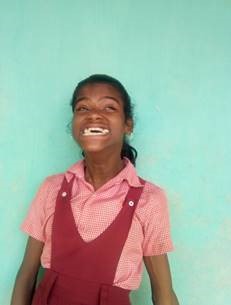 Arati was born with "athletoid" cerebral palsy, making it difficult for her to make her muscles do what her mind tells them to do. All of her limbs are affected, and she cannot walk independently.
Rejected by her own family, she was left abandoned when the Missionaries of Charity picked her up and brought her to SHED in 2010.
Today she can read, write and perform day to day self-help skills independently. In addition to her class work, Arati is involved in the school cultural programs along with other students. The school also helps her integrate into society by intermingling with regular kids from government schools in the school's evening program.
The stigma of disabilities in India, coupled with poverty and a lack of services, has denied many a child like Arati a chance to contribute to society and live with dignity. In SHED, they are given a safe home, education and therapy services.
PROJECT FOUNDER HIGHLIGHT: DR. KALBAG
Asha for Education invests in socio-economic change through the education of underprivileged children in India. We partner with and support change agents like the late Dr. Kalbag, founder of Vigyan Ashram, to drive transformation at the grass-roots level.
Influenced by his experience in USA where he saw rural farmers using science and technology not only for agriculture but also in their daily lives, Dr. Kalbag set out to start an education system (Vigyan Ashram) in 1983 based on the principle of "natural system of learning". Dr. Kalbag's goal was to promote non-formal education for rural youths, especially school drop-outs.
"We want our students to start their own enterprises in their villages and thus reduce the migration to cities.".
As a change agent, Dr. Kalbag envisioned that every village will have the equipment and the skills that are the basis of all modern industry. The youth coming out of this system, in villages all over India, will be handymen, who are at home with a variety of skills and can mature their ideas.

Over the years Vigyan Ashram has made significant contributions towards the field of vocational education.
Vigyan Ashram has collaborated with Massachusetts Institute of Technology (MIT) to setup a fabrication lab where the students solve the problems of the local community and get to learn valuable technology skills like 2D/3D designing, 3D printing and scanning, laser cutting, electronic processes, programming, molding and casting.
Fab-Academy students built a machine, "chitra bot" to paint walls of a building.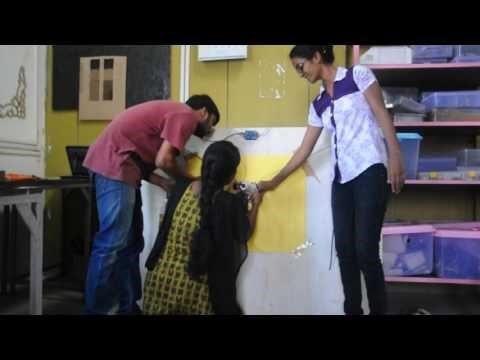 Asha for Education supports projects like the Vigyan Ashram. At Asha for Education we take a broad view of education and do everything possible to ensure societal needs are met. We are working to ensure that the next generation of these underprivileged children emerge as independent thinkers who can contribute to society as responsible citizens. For this, we beseech your support.
CHAPTER SPOTLIGHT: ASHA ARIZONA
Asha Arizona (or Asha AZ), previously an active chapter, was rejuvenated by a new set of enthusiastic and driven volunteers in 2015. The years 2015-2016 were focused on reviving it to become a full-fledged chapter. The efforts towards this started with Asha AZ being established as a satellite chapter under the mentorship of Asha Boston. During this period, we increased the core volunteer strength, identified key roles and responsibilities and spread awareness about the chapter in the Phoenix valley.
Some of the key achievements during the satellite chapter phase were: –
– Set up a booth at a couple of premier Holi events in the Tempe-Phoenix area where the chapter organized a raffle, sold sunglasses and car seat covers, and distributed flyers. From this event the chapter raised about $1500.
– The chapter successfully gained affiliation with Arizona State University (ASU) as a student body organization.
– Planned and executed the chapter's first independent fundraiser at ASU, Diwali Night on October 27th, 2017. The event was themed to celebrate Diwali with an open dance floor, DJ, delicious Indian food and various cultural performances by local artists in the valley. Stalls were set up to sell jewelry and Indian artifacts and provide photo-ops to the attendees in addition to a dedicated Asha booth for donations and Q&A. The fundraiser was a huge success with about 150 attendees and the chapter raised close to $3000.
– The chapter also organized an awareness building hike on November 18th, 2017 at South Mountain Park, Phoenix. The hike had a fairly successful turnout with most volunteers and some hiking enthusiasts. Refreshments were provided to the hikers and about $100 was raised.
– Funds raised in 2017 were disbursed to Reward Trust, Tamil Nadu under the guidance of Melli Annamalai, one of the project stewards from the Boston chapter.
– One of the volunteers, Samyuktha Kumar recently visited the Reward Trust project site.
These efforts resulted in Asha AZ becoming a full-fledged chapter in January 2018 with 6 volunteers forming the core committee. The chapter's vision for 2018 is to increase volunteer strength, host more fundraisers to be able to support additional projects and identify project stewards. The chapter is also focused on rekindling the youth chapter. The current efforts of the youth chapter are to add passionate middle and high school students to the fold.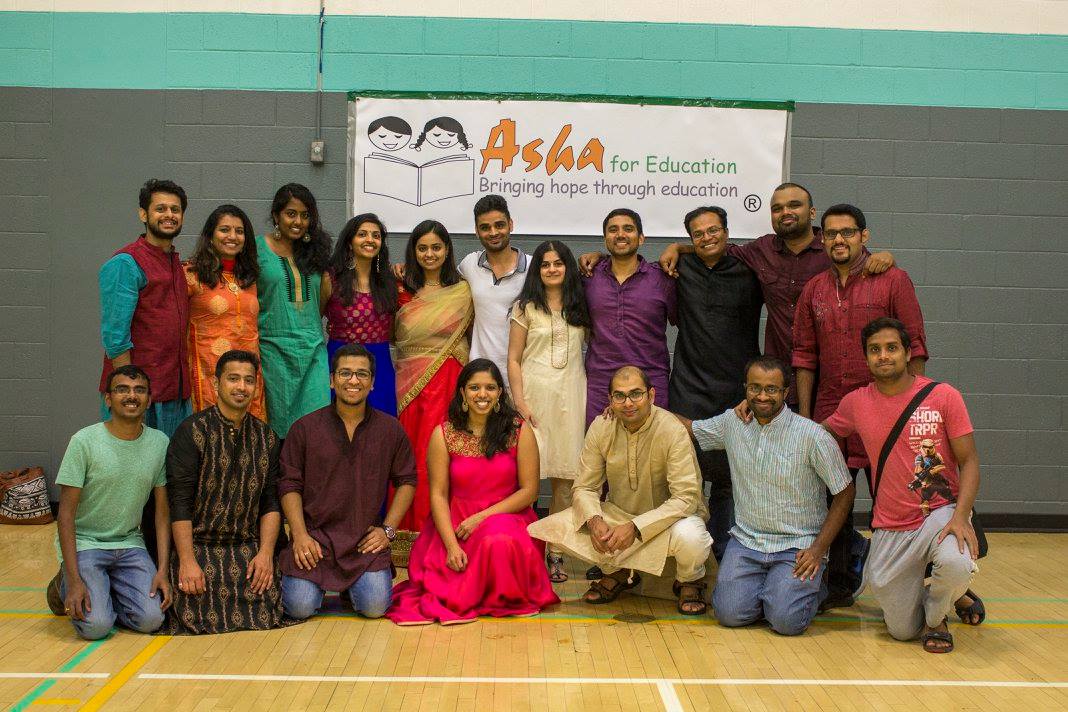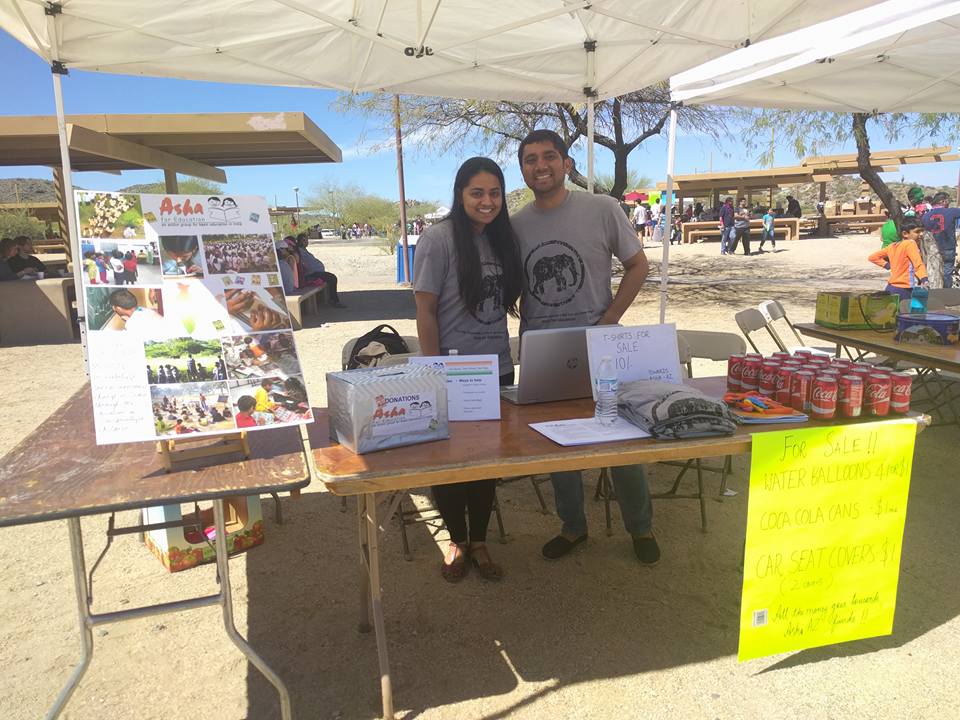 EVENT HIGHLIGHT: ASHA DANBURY'S EVENT OF HOPE
As the evening of December 2nd, 2017 approached, there was heightened activity in Greater Danbury area. Table assignment tags on little cotton bags with paan candy were being arranged on the table in alphabetical order. Handicrafts from the fair trade artisans were laid out on the piano for sale. Indian Tiger, a version of Moscow Mule and Colorful Peacock, a virgin Mai Tai decked up the welcome drinks table. Inside the big ballroom, silent auction items were being arranged on one end of the hall and on the other end the audio visual team was busy setting up presentations for the live auction. Beautiful centerpieces in black and gold set the tone for the evening.The Portuguese Cultural Club of Danbury was getting ready for Night of HOPE.
A night filled with HOPE for the millions of underprivileged children in India. A night filled with stories of courage, resilience and survival against the odds. A night filled with optimism, renewed focus and dedication to bringing hope to thousands of children through education. A night for Asha for Education. A night for the Greater Danbury community to celebrate and be a part of the journey of HOPE with Asha Danbury.
And soon it was time for the guests to come. And they came from all walks of life; high school teachers, lawyers, doctors, managers, architects, marketers, engineers, Indians and non Indians, some wearing a saree for the first time, others trying Indian food for the first time. There was a sense of excitement, an amalgamation of cultures and colors, a diverse group of caring individuals under one roof to support underprivileged children of India.
The first two hours flew by as people immersed themselves in the close to 100 silent auction offerings, meeting new people, renewing bonds with friends over cocktails and appetizers. Then it was time for the audio visual presentation. Starting with a few words from the Asha President, Uttaraa Diwan, and Asha Danbury Coordinator, Lalitha Podilla, a showcase of all Danbury projects by the project stewards was done. The presentation touched hearts and helped open wallets as our MCs led the live auction.
Dinner was followed by a Bhangra performance by the UConn Bhangra team and then the DJ opened the dance floor with a riveting dhol performance. The audience danced into the night, happy to be a part of Night of HOPE.


VOLUNTEER SPOTLIGHT: TAPO BHATTACHARJEE (ASHA GEORGIA TECH)
Tapomayukh "Tapo" Bhattacharjee started his journey with Asha for Education in 2015 by reviving Asha's Georgia Tech Student Chapter
(a part of Asha Atlanta) as its co-President. This was possible due to his involvement with other student organizations on campus. Since his arrival in the USA in Atlanta in 2011, he has always actively participated in different forms of community service. As the Service Chair and President of Gamma Beta Phi in Georgia Tech, he organized, led, and participated in a record number of around 40 community service events in and around Atlanta. Due to his leadership and participation in service events, GBP won the Danielle McDonald Legacy Award (Burdell's Best) for outstanding service. Also, as the president of RoboGrads (Robotics Graduate Student Organization), he participated in various outreach events in and around Atlanta. It was through a combined event with GBP and initial word of mouth campaign among his friends in RoboGrads and outside, that Tapo and his friends first started advertising Asha's name among the students at GT. Over the past two years, Asha's presence in GT has considerably increased and now, they organize various events regularly such as game nights, training for 5K, 10K, half-marathons, marathons, Diwali nights, volunteering at concession stands etc. Due to his involvement with various organizations on campus, Tapo was awarded the 'Outstanding Community Service Award' by Georgia Tech and Emory University in 2016.
Apart from his involvement with Asha's activities as a student chapter on campus, he has also done a site visit to a remote area of Manipur in North-east India, which was an eye-opening (and life-threatening) experience for him. Through this visit, he was exposed to the grassroots life of children and adults alike in the presence of militant groups. This visit helped him identify some of the crying social issues in those tribal parts of India and taught him a lot about the priorities that these people have in their day-to-day lives. He was also the Work-an-Hour (WAH) Chapter Coordinator for the 2017 Asha-wide WAH Campaign. His duties during the WAH campaign were to monitor and coordinate various activities at the chapter level for various participating projects with the activities at the central level. This experience not only gave him an idea about the huge scale at which Asha operates but also an inside view of how various branches in Asha coordinate their activities among themselves for its smooth functioning. He hopes to continue this learning and remain on this journey with Asha for many years to come.
In his free time, Tapo enjoys playing board games, is a huge movie buff, and loves cooking. He has also recently started doing a lot of outdoor activities like hiking and camping, especially now that he is in Seattle which is known for its outdoor recreation.
EMPOWERED AND ENGAGED TEACHERS
By Melli Annamalai (Asha Boston)
The government school system has been given up as hopeless, though nearly 70% of students attend government schools. It is the only option in rural areas and for poor children. One reason given for the dysfunction of the system is a lack of motivation among teachers. "Teachers are apathetic and don't care," is a common refrain. In H.D. Kote taluk in Karnataka, a deprived region, the Vijnana Vedike initiative has evolved a unique approach to create a new mindset among teachers. It has created a participatory forum for teachers to discuss Science and Science teaching. A key aspect of this forum is that it is participatory. It is different from the standard top-down approach of the numerous training programs teachers are required to attend. Teachers can shape the discussions of the forum based on what they need, rather than being told what they should do by someone who does not understand their day-to-day challenges. The free flowing nature of the discussions has led to a vibrant learning group. Teachers want to be part of Vijnana Vedike, rather than being forced to go a training session. Most importantly, teachers have become excited about learning, and bring this excitement to their classrooms, something that other training programs have failed to achieve.
Read the rest of Melli's thoughts here.
EXPRESSIONS OF HOPE


Featuring Rohini (Asha SV)

Rohini is a junior at Dougherty Valley High School in San Ramon, CA. She was born in Dearborn, Michigan and spent two years growing up in India when she was 5 years old. The experience of growing up in India with grandparents and extended family has helped Rohini develop a strong connection with Indian culture and heritage. She had many opportunities to visit an orphanage for children and be part of providing some meaningful support to underprivileged kids. That experience had an indelible impression on Rohini and made her realize how fortunate some of us are compared to many and she was determined to raise awareness to help the needy children.

In 2015, she started teaming up with Asha for Education to raise awareness and funds for underprivileged children's education in India. She trained with Team Asha and completed two Half Marathons (Two Cities and Berkeley) in 2016 and San Francisco Half Marathon in July 2017 to raise awareness and funds to support children's education.

In 2017, Rohini founded Little Taare , a non-profit organization with a focus to provide advancements in children's education, protect their basic human rights, and enrich their human experience with lasting changes in their lives. Rohini is partnering with other established non-profit organizations to advance Little Taare's mission.

Read the rest of Rohini's story here.



STATEMENT OF FINANCIAL POSITION
+ STATEMENT OF ACTIVITIES

President: Uttaraa Diwan (president@ashanet.org)
Secretary: Venkatesh Iyengar (secretary@ashanet.org)
Treasurer: Shankar Sadasivam (treasurer@ashanet.org)
Director, Projects: Swati Sircar (projects@ashanet.org)
Director, Fundraising: Prasad Pabbati (fundraising@ashanet.org)
Director, Web: Akshay Bhole (webmaster@ashanet.org)